Are you wondering what the best DJ gifts are for that DJ or producer in your life? Something that really says I love you?
Here Le Visiteur talks you though some of the must haves and most wished for bits of kit that your other half would love to receive! We've given a few options from relative budget to all out break-the-bank.
Where we could find them there are links to grab all of these in the UK and the USA.
All prices were correct at time of going to press in December 2022 but may vary slightly over time.
If you are looking for something on a budget check out our DJ & Producer Gifts for under £100 HERE
Please note that we're reader-supported. When you buy through links on our site, we may earn an affiliate commission at absolutely no extra at no cost to you so a huge thank you for supporting the site.
---
DJ HEADPHONES
Arguably the most important piece of kit in a gigging DJ's arsenal. It's is essential to get a good pair of headphones and our tip is to get the best pair of headphones you can possibly afford as the better the sound quality the quieter you can have the volume and still be able to mix easily. If you are planning on DJing for many years this is our pro tip to look after your hearing.
All three of these recommended pairs have been tested here at LV HQ and tick every box.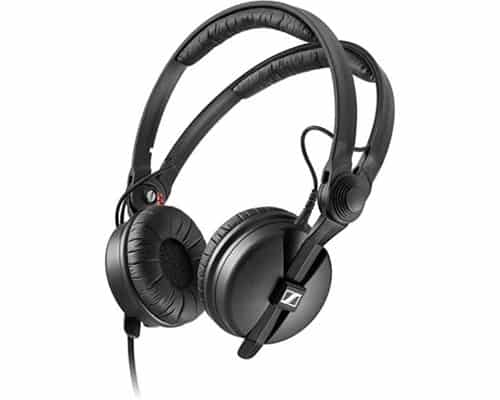 Sennheiser Professional HD 25 On-Ear DJ Headphones
One of the finest headphones ever made for DJ's with 16 – 22000 Hz frequency range.
Classic design, super comfortable and great sound for a bargain price.
£124.95 / $149.95 approx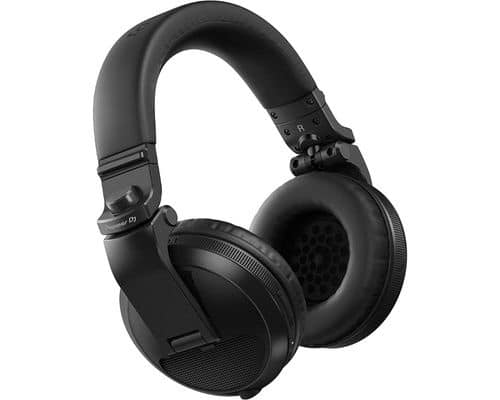 Pioneer DJ HDJ-X5BT-K Bluetooth DJ Headphones
These are my current day to day headphones with a large frequency range of 5-30000Hrz and sound ace.
They are comfy enough from long DJ sessions and have Bluetooth capability.
£135 / $149 approx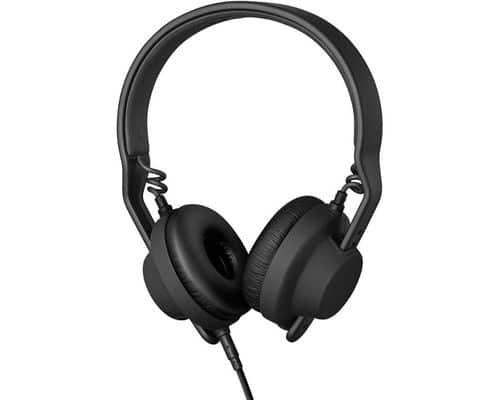 AIAIAI TMA-2 DJ – Professional Headphones 
These cans are a real industry disruptor. They are completely modular so you can replace & upgrade every part.
High isolation with punchy bass & memory phone cushions. Love it!
£127.09 / $200 approx
---
DJ BAGS
Keep your kit safe and secure with these quality DJ bags.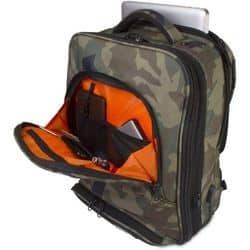 UDG Ultimate Backpack Camo / Orange
Slim and lightweight but with enough room to fit a Pioneer DJM S9 mixer.
Water resistant. Padded laptop compartment which fits up to a 17″ laptop and plenty of pockets otherwise for headphones, USB's etc.
£132 approx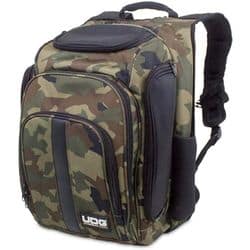 UDG GEAR Ultimate DIGI Backpack Black Camo/Orange 
The next size up in the Ultimate range for dj's packing more kit.
Fits a range of mixers and controllers with 5 exterior pockets and s-curved straps for comfort. Front comoartment and detachable pouch.
£154.67 approx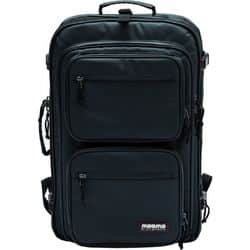 Magma Extra Large Riot DJ Backpack
I have this bag and it's a literal beast of a back pack. With tons of space it will fit right up to a Pioneer S11 mixer.
Heavy duty waterproof tarpaulin and lockable zippers. Separate laptop pocket and various pockets / pouches.
£169 / $329.99 approx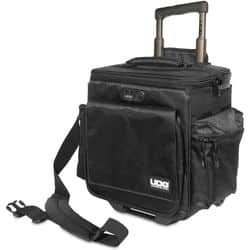 UDG Ultimate SlingBag Trolley DeLuxe
The worlds best selling DJ 12″ trolley bag, It holds up to 60 12″s and has smooth rolling wheels for ease of transport.
3 extra pockets so can also hold a midi controller, audio interface & headphones.
£199.99 approx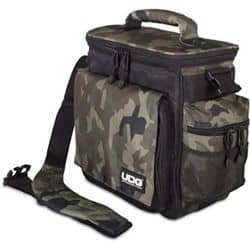 UDG Ultimate SlingBag Vinyl Record Bag
A medium sized bag which holds approx 50 vinyl records with three large pockets for heaphones etc.
Water resistant Nylon, and foam padded walls for extra protection. Comfy detachable shoulder strap.
£109.99 / $180 approx
---
DJ CONTROLLERS
The easiest way to start your DJ journey. Plug into your laptop and play, simple as! With a worldwide chip shortage many of the most popular controllers are impossible to source. These are our picks for ones which are still readily available. These mixers run a range of software including Serato, Traktor Pro 3, Rekordbox and there are also 2 stand alone controllers which run via USB and SD card but also make it easy to download tracks from all of the above music programmes.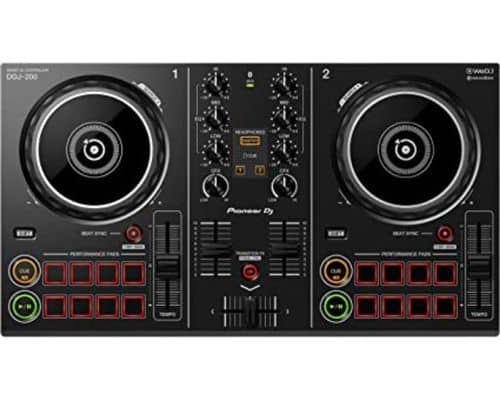 Pioneer DJ DDJ-200 Smart DJ Controller
Entry level 2 channel bluetooth Pioneer mixer with great features for the price. Perfect to learn on or for throwing your own house parties. Compact and lightweight with a pro style layout with EQ and Low/ Hi filter on each channel, 16 performance pads & track sync.
Compatible with
WeDJ (iPhone/Android)
rekordbox (PC/Mac)
djay (iPhone/iPad/Android)
£139 / $199 approx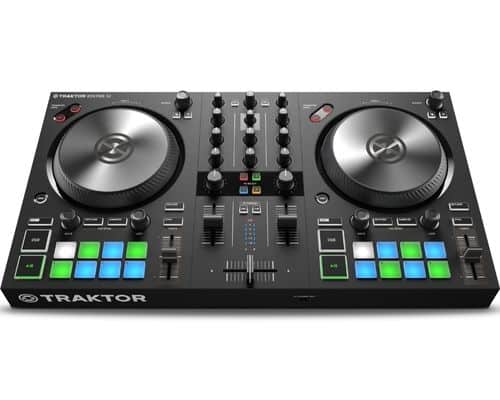 Native Instruments Traktor Kontrol S2 Mk3
Native instruments entry level 2 channel Traktor controller. Portable with lots of pro features, 3 band EQ, filter, 16 performance pads with hot cues and samples, library search, sync, key lock. big jog wheels and comes with Traktor Pro 3
Compatible with
Traktor Pro 3
£219 / $339 approx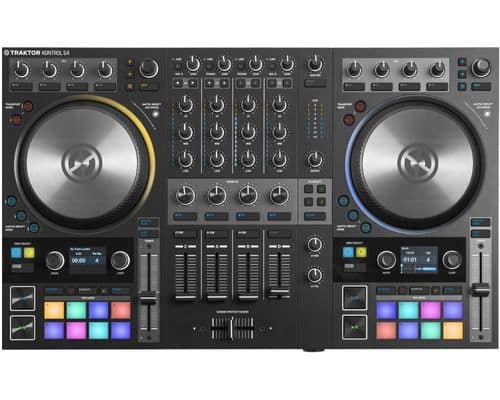 Native Instruments Traktor S4 MK3
Native instruments 4 channel mixer. Motorised jog wheels with haptic feedback, hi-res colour displays, 16 performance pads, EQ, filter and multiple fx. Pro layout with carbon faders stem deck control. 3 modes Turntable, Jog & Beat grid mode.
Compatible with
Traktor Pro 3
£750 / $980 approx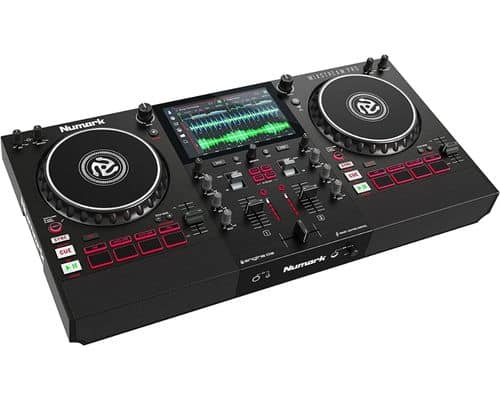 Numark Mixstream Pro Controller with Speakers
Another stand-alone controller with 7″ touch screen, 6″ sensitive jog wheels and smart Scratch. Crossfader, 3 band EQ, sync, 8 dual layer performance pads. 2 USB ports for easy changeovers, Wifi Capability and onboard speakers with volume control.
Compatible with
USB / SD Card
Wifi Streaming
Import from Serato, Traktor & Virtual DJ
£589 approx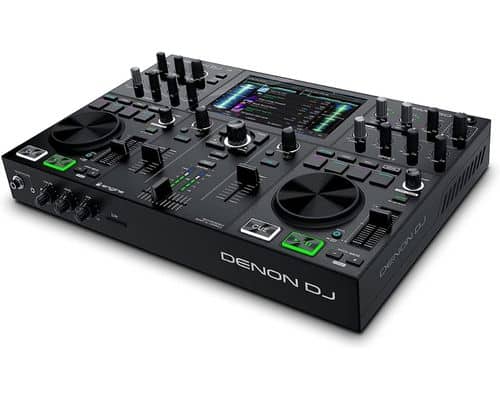 Denon DJ PRIME GO Controller
A stand-alone 2 deck system with 7″ HD touchscreen. Touch capacitive jog wheels FX module, 3 band EQ, performance pads & Wifi capability. Rechargeable battery for 4 hours of DJ performance. It also has a USB & SD media source inputs.
Compatible with
USB / SD Card
Wifi Streaming
Import from Serato, Traktor & Virtual DJ
£1084 / $999 approx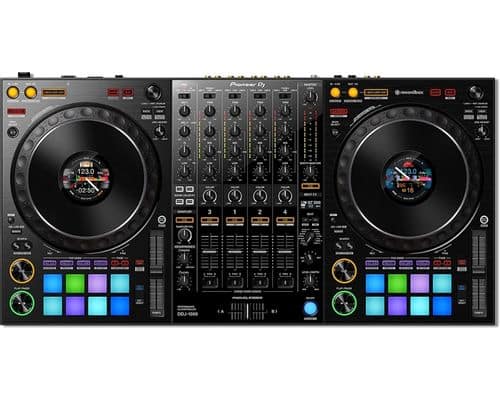 Pioneer DJ DDJ-1000
Professional layout with 4 decks, 16 multicolour performance pads, customizable LCD jogwheel and dual USb ports for easy changeover. Magvel Fader, Beat FX and Colour FX from DJm mixers. Runs Rekordbox as per playing with USB drive on the NEXS2 decks and mixers. Get club ready!
Compatible with
Rekordbox
£1539 / $1999 approx
---
VINYL TURNTABLES
Looking to buy a gift for a vinyl DJ, check out these great record decks.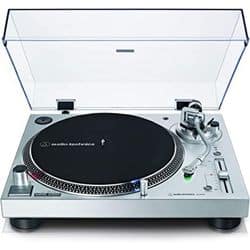 Audio-Technica AT-LP120XUSB Manual Direct-Drive Turntable
Direct Drive with a DC servo motor, die cast platter, and a AT-VM95E cartridge.
Converts records to digital files via a USB output
Built in switchable phono pre-amp for photo line level output.
£239 / $349 approx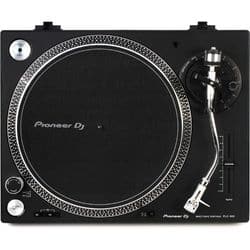 Pioneer DJ PLX-500-K Direct Drive DJ Turntable
Built to produce high quality vinyl sound.
Converts records to digital files via a USB output
Designed for mixing and scratching and has a switchable pre-amp on the back.
£279 / $329 approx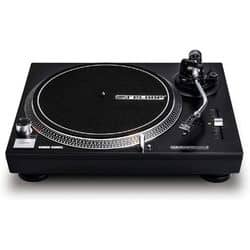 Reloop RP-2000 USB MK2 direct-drive DJ turntable
Powerful quartz driven direct drive motor. Switchable line / phon output.
Converts records to digital files via a USB output.
Comes with a OM Black catridge (made by Ortofon)
£259 / $533 approx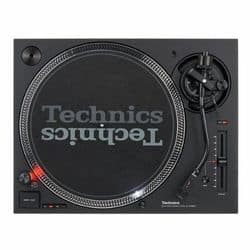 Technics SL-1210 MK 7
The daddy of DJ turntables brought bang up to date for 2023.
High performance, Hi -torque and accurate sound reproduction with incredible reliability.
Aluminum platter, Pitch adjustment +-8 / +-16
£795 / $1299.89 approx
---
DJ KIT
Some great bits of kit right here to make your DJ life much easier and lots more fun.
---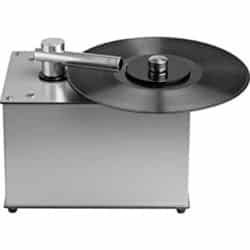 Pro-Ject VC-E, Compact record cleaning machine
Compact, with a solid cabinet. This unit both cleans and removes static from records. With 0.5l tank for fluid.
Keep those expensive records in top condition.
£299 / $400 approx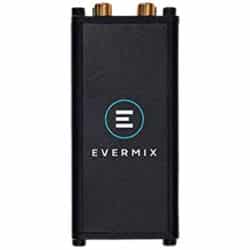 EvermixBox4 Portable DJ Recording
Easily record your DJ sets with professional quality recording via an IOS app.
Simple plugin and play system which has self attenuation to stop your recordings clipping.
£124 / $144 approx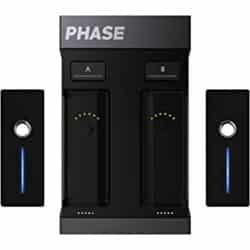 Phase Essential – 2-Deck DVS Controller
An essential piece of kit for anyone wanting that vinyl feel with their DJ software. Works with Serato, Recordbox, Traktor, Virual DJ.
Compact and precise. Love this!
£249 / $449 approx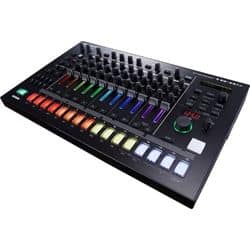 Roland Aira Rhythm Performer TR-8S
Combines the finest Roland heritage with modern production techniques and sound design.
Has every sound from 808, 606, 909, 707 & 727 or you can import your own sounds.
£586 / $649 approx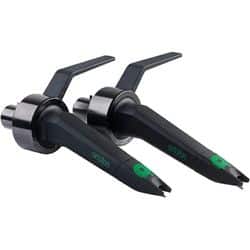 Ortofon Concorde Mix MKII Twin
A modern take on the classic Concorde design these stylus have a spherical cut, 3g tracking froce to keep them tight to the vinyl and stable.
They also have a high output volume.
£135/ $200 approx
---
DJ MIXERS – ROTARY
Taking it all back to where it began, the feel of a rotary mixer is truly a gamechanger.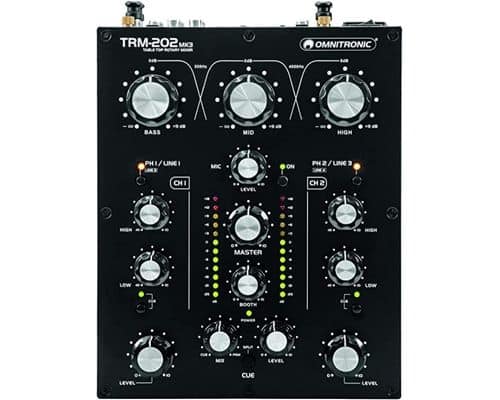 Omnitronic TRM-202 MK3
This was actually my first ever rotary mixer as I investigated how they might work in my own DJ set-up.
This is a brilliant bit of kit at what is a complete steal of a price..
Construction is super solid and for what is a steal of a price this is a fabulous sounding mixer.
Highly recommended!
£268 approx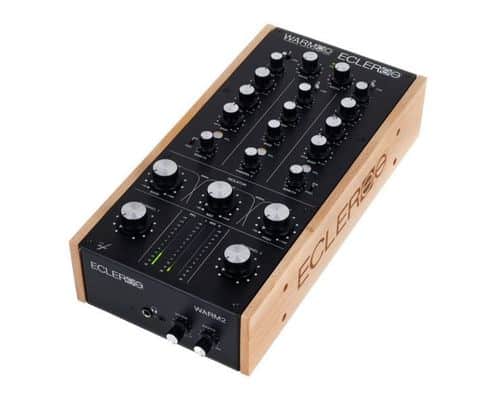 Ecler Warm2
A lovely looking mixer with 3 band EQ per channel, 2band EQ on the mic and 3 band master isolator.
FX send and return so you can add in a separate effects unit and 12 segment LED and PFL VU meter.
3 line inputs and XLR / RCA master output.
A highly rated but affordable mixer!
£548 / $999 approx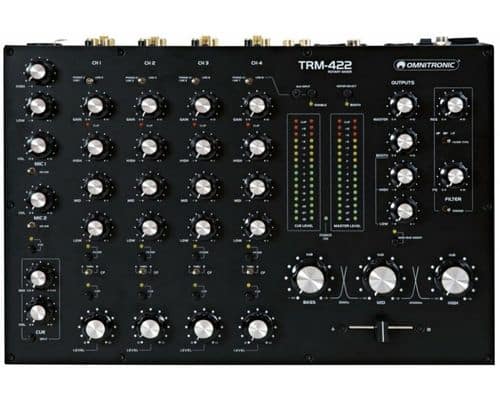 Omnitronic TRM-422
The big brother to the TRM- 202, this mixer takes things up a notch but still at a very affordable price.
Packed with goodies including 3 band master frequency isolator, HPF/BPF/LPF filter, 4 stereo channels with gain and 3 band EQ and an adjustable crossfader with VCA technology.
A bargain 4 channel rotary mixer.
£1539 / $1999 approx
---
DJ MIXERS – UP FADERS
There are some truly fantastic mixers on the market right now. Here are a few personal favoruites.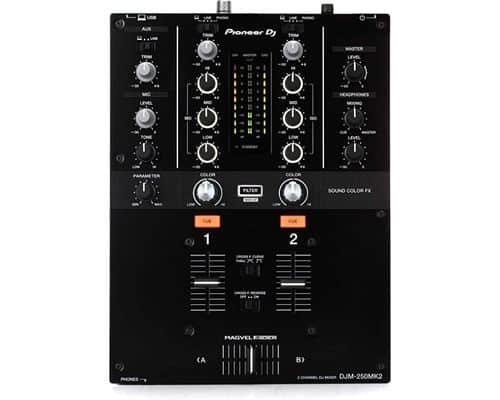 Pioneer DJ DJM-250MK2
An excellent entry level 2-channel mixer from the big boys on the DJ equipment scene Pioneer.
With Straight forward design this mixer has some of the features of the club standard DJM-900NXS2 with sound colour FX filters and a replaceable Magvel crossfader.
Natively compatible with Rekordbox Dj/ DVS. Just plugin and play.
£476 / $500 approx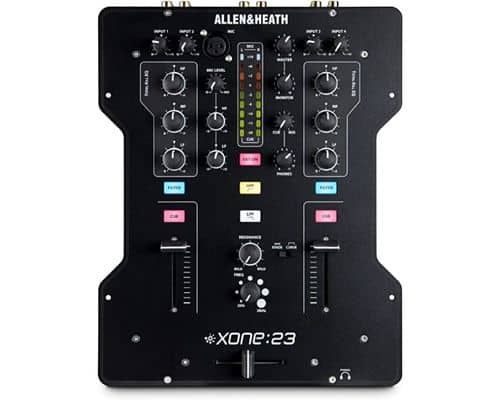 Allen & Heath XONE:23
The entry level mixer for another one of DJ equipment's biggest players.
This 2 channel mixer is packed with features including the legendary Xone filter, VCA faders, 2 band total kill EQ, illuminated switches, HPF and LPF selector switches, a replaceable cross fader with curve selector for mixing and scratching.
Another excellent mixer.
£303 / $449 approx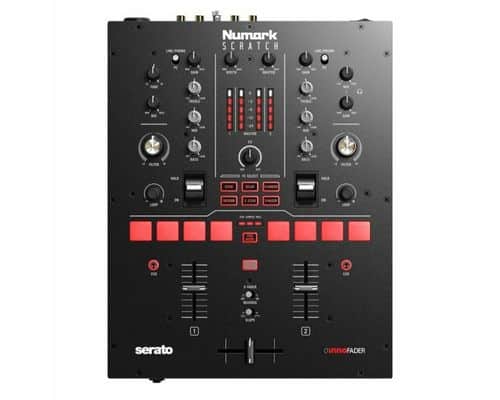 Numark Scratch Mixer 
A 2 channel battle mixer packed with tech considering the low price point.
All metal build with bilt in innofader cross fader, performance pads, instant look encoder and covers with Serato DJ pro and is also Serato DVS ready.
With amazing sound quality and multiple hands on effects this truly is a mixer which will let you perform at a very high level for a bargain price.
£389 approx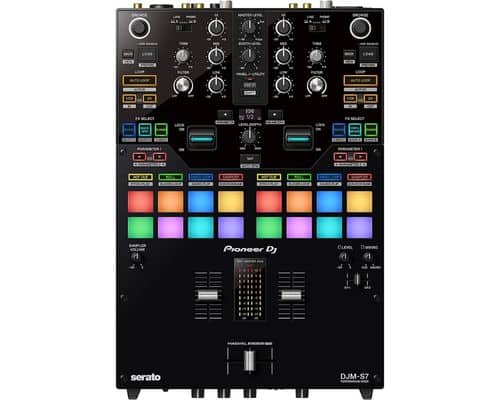 Pioneer DJ DJM-S7 Mixer
A serious battle mixer from the DJ worlds biggest name.
Comes with a free use of Serato's flagship DJ Pro software and hardware unlock for Rekordbox so you can use either.
Has the brilliant Magvel fader, Large performance pds, large effect levers, Bluetooth input from your phone and loop midi. Also has a voucher for the essential Pitch n time key sift software.
£1349 / $1449 approx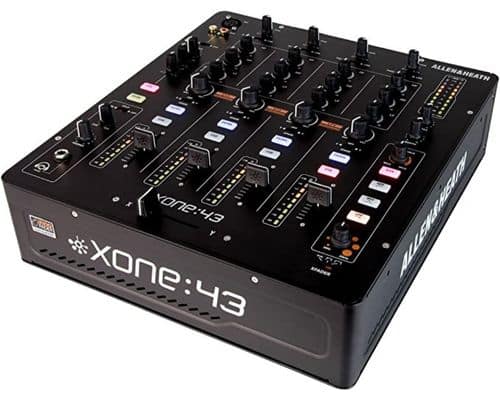 Allen & Heath XONE:43
A fully analogue 4+1 Channel mixer with an extra channel which can be used for a mic or playback source with it's own EQ.
Elegant faders and cues, a three-band EQ on each channel with kill function, and the X:FX.
This unit has professional sound so can be used in a club environment.
Solid and reliable construction
£759 / $799 approx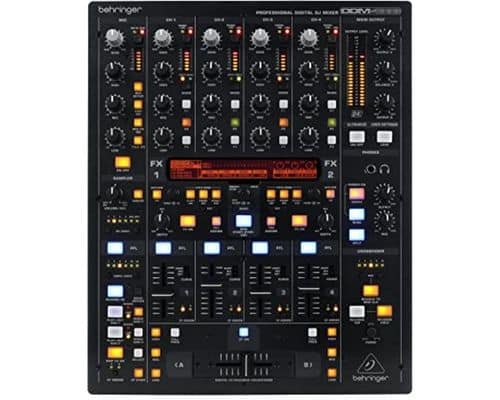 Behringer DDM4000 Mixer
Over the last few years Behringer have continued to create inroads into the DJ market with their well priced offerings and this mixer is one of their finest offerings.
Packed with effects it's a 32bit mixer with beat synchronized sampler, 4 multi fx sections 2 BPM counters a digital cross fader and MIDI.
If you are looking for bang for your buck this one is packed!
£348 / $409 approx
---
Enjoy your gift hunting, Le Visiteur x
Best dj gifts for the DJs and producers Christmas 2022
You can also check out our bargain best DJ gift list HERE
Tags: Amazon, dj equipment, dj gifts, dj presents, Producer Equipment, Producer Tech